"Healer Coe?" Raven called out as she stepped through the doorway. Still standing beneath the transom, she waited for the raccoon to uncurl himself from the pile of papers he had spread across the flagstone.
"Yes, Raven?" Coe asked, ears upraised as he brushed a bit of dust from his trousers. The room was quiet but for the rattling of the shutters. The storm was still blowing strong outside, and from the look of the sills, the raccoon had not managed to get all the windows closed in time. Small puddles pooled beneath a few of the windows, though they would be dry by the morning.
"I was hoping to see the knight one more time this evening. How is she?"
Coe shrugged slightly, eyes casting over towards the hallway down which the knight was sleeping. "She's well enough. Her change is almost complete. I expect it will be by tomorrow. Her last changing spurt did not pain her nearly as much as the others, and she was almost able to mouth words to me, but I couldn't tell what they were."
"Has she woken then? I received no letter."
"Nae, she has not yet arisen," the raccoon explained. "The change is taking a lot of energy from her. I have to force the food and water down her throat each day. She has been growing a great deal as well. She makes no waste, so everything she consumes is only adding to her change."
Raven nodded then. It was often the case with those who grew into larger forms that they would have no bodily wastes while they transformed. Just as it was with those who shrank in size, they often did have quite a few wastes, and some in surprising ways.
"Have you figured out why she's changing?" Coe asked then, rubbing his paws together.
"I believe so, yes. What is causing it is nothing that I would wish upon anyone else. And if we are right, then we may not be able to remove the curse."
"And some of us would you rather didn't," Coe pointed out with a slight churr to his speech. "Some of us like being the way we are now, and don't want to go back."
Raven smiled, her tail wagging ever so slightly. "There is that as well, yes." She looked down the hallway and nodded her head. "I would like to see her now though."
"Of course. You won't be alone though. His grace is still in there."
"Still?" Raven asked in surprise. She had not heard that Thomas was here visiting with her.
"For three hours now," Coe replied, his voice emptying itself of anything more than the words themselves. "He's been there every night since she's come here. And he usually stays until well past dusk."
Raven narrowed her gaze. Why would Thomas spent so much time watching after her unless... "I am sure his grace will not mind my company."
"As you wish," Coe replied. "You know te door, Raven. It is unlocked."
The wolf priestess nodded and as quietly as possible made her way down to the door. Her ears turned up to listen, but all she could hear was the sound of breathing beyond. But she could smell two equines. Raising one paw, she quietly knocked at the door.
"Who is it?" Thomas's voice called out.
"It's Raven, your grace. May I come in?"
"Of course," the voice was tired and strangely weary.
Raven opened the door and found Thomas sitting on a stool, his long head staring at the form that lay within the bed. His eyes were attentive, but there was a look of fatigue to them. "Your grace," Raven said, nodding her head low. He acknowledged her with a wave of one hand, and then returned to his consideration of Alberta.
The knight still lay underneath white linen sheets, but the shape beneath them was no longer merely that of a woman. Her whole body had greatly increased in size since the last she had seen her. From out the foot of the bed a pair of solid equine hooves protruded, the hooves themselves a bit larger than Thomas's own. Her tail was not visible, though one arm was, a two-fingered hand spread across the pillow, the fingers ending in thick hoof-like nails. She still possessed her thumbs, and they seemed as well formed as Thomas's own.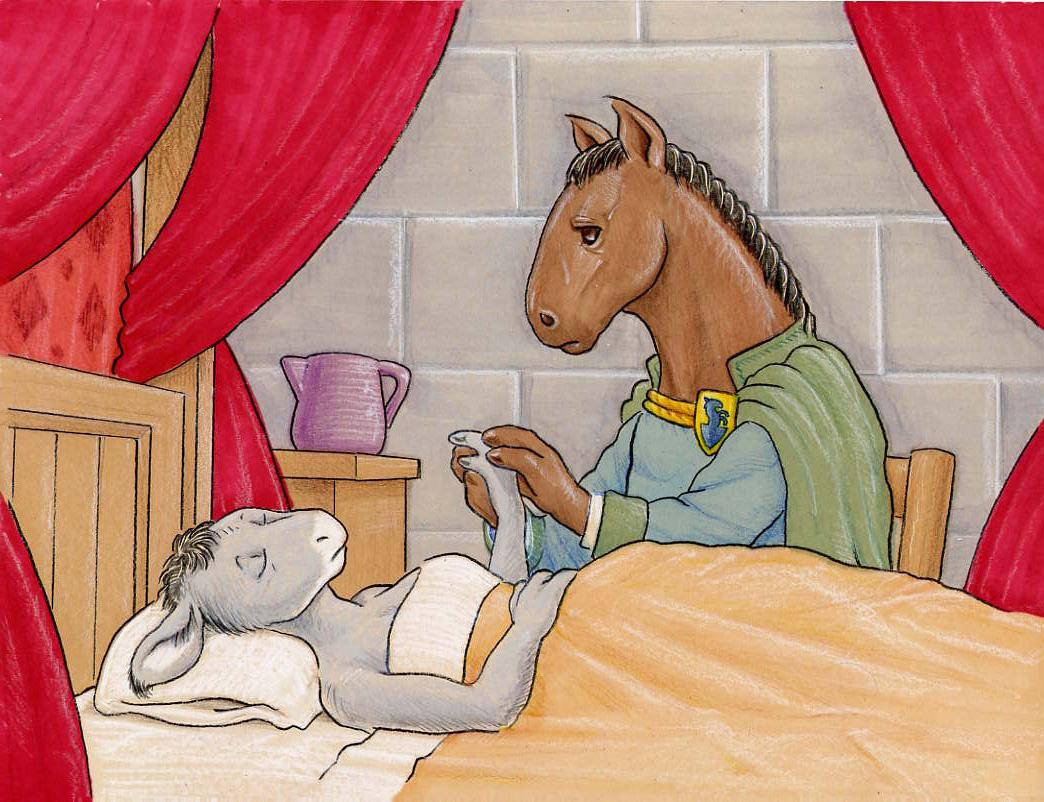 But it was her head that caught her eyes most fiercely. Gone was the long black hair. Instead, a thick matting of black hair ran down the length of her neck, the hairs roughly six inches in length the whole way. Ears that had grown long and thick with fur topped her massive head, each of them lying to the side. Her face had distended into an equine muzzle much as Thomas's had, grey fur covering the front in a distinctive pattern. Her wide nostrils breathed in and out.
It was strange to look at her, for her change was still not finished. Hints of fur patterns existed at her shoulders, though they were not complete. And even a few patches on her face were still bereft of the fur that would cover them for the remainder of her days. But it was increasingly clear what she was becoming, although there was still something wrong with it.
While the colour of her fur, and the shape of her mane and ears strongly gave them the impression of a donkey, her frame was simply too large for it. It was clearly taller and thinner in places, at the same time being more robust overall. While it looked like a donkey, it wasn't quite that either.
"Do you know why this happened?" Thomas asked then, even as he reached out a hand and brushed the back of his two fingers across her own.
"I believe so, your grace," Raven replied, wishing that she herself had a stool to sit upon, but there was only the one.
"Please, call me Thomas for now." He let his hand fall back into his lap, and his gaze finally left the knight. Raven could now see that there was an opened letter sitting upon the bedside.
"When Zagrosek removed that part of her spirit, he removed her connection to both the curse and counter curse," Raven explained. "It is that part of our spirit that the curse anchors itself. Without it, the curse could not affect her. Once her spirit healed naturally, it took her again. She did not become a man again, because without the power of the counter curse, her body had no way to change back. At least, that is what all that we know leads us to believe."
Thomas nodded slowly at that. "And is that why I hear she feels so feminine now?"
"Yes. She does not really have any connection with the masculine. For her, it may be as if she had never been male."
"Never?" Thomas asked, and then nodded. "I..." but his voice trailed off into silence and his head once more swung around to watch the knight. The sheet stirred slightly as her tail shifted underneath.
Raven looked between the two equines, staring intently at them, probing the Duke's eyes for any clue to his state. But all she could find in the darkness was the flickering of the lamp reflected. "Why are you here watching her, Thomas? Brian says that you've been here for several hours the last two nights too."
The horse lord did not return the priestess's gaze. Instead, he continued to watch the sleeping equine with saturnine patience. "I wanted," he said at last, his voice soft, almost swallowed by the thundering racket outside, "I wanted to make sure that she was all right."
In just those few words, Raven knew there was more to it than that. Her heart began to beat a bit faster, as possibilities began to occur to her. She knew the story about Thomas asking Bryonoth to dance at the Knight's Ball. After hearing about the halter and what it had done to him, she's just assumed that had been one more aspect of the halter's influence. But now Thomas had been freed from it. What if that had not been the halter's doing, but Thomas's own?
"Do you care for her?" Raven asked, her own voice whispered. Somehow, speaking of this any louder seemed inappropriate.
"Yes," he admitted with a slow nod of his head. "I do. Even though the halter was ruining my judgement, there was an intimacy in our time together that I cannot describe. Something passed between us in those nights. I was more vulnerable for her than I have ever been with any other."
Thomas turned then and tried to meet Raven's gaze, but his eyes kept trying to wander back to Alberta. "She may have been under Zagrosek's control, but when we were together, I saw a tenderness in her that was not of his doing. She loved tending to the horses. And now she," Thomas did look back at her body, "is becoming an equine too. It makes me feel like..."
"Like what, Thomas?" Raven rested one paw gently upon his shoulder. "I am your priestess as well as your friend. You may tell me whatever it is that is on your mind and heart."
The horse lord nodded, the flicker of emotions moving quickly across his brow. "It makes me feel like we could be together again." He turned his eye back to Raven. "Not as horse and ostler. No, I do not want that at all."
"Then how do you wish to be with her?" Raven asked, though the whispers in her heart told her the answer already. She could feel her fur standing on end in anxiety as she waited to hear the words from Thomas's own lips.
"As man and woman." Thomas smiled slightly, and then reached over and picked up the letter. "I wrote this letter right after we were freed from the halter." Raven took the parchment and unfolded it, angling it towards the light that she might read. "It's ironic," Thoams said, reaching out one hand and brushing across the top of Alberta's mane. "I wrote that expecting her to accept my offer to join the Red Stallion. I never really understood why she turned me down until now. As a woman, a woman of the Steppe, she did not think she was supposed to do such a thing."
The letter, Raven found, was genuinely heartfelt, and showed a side of the duke she had not seen before. Thomas had been little interested in the parade of noble women that Thalberg and Posti had brought before him in the years before the curse. And in the years after, very few were the women interested in him. Raven knew that Thalberg and Malisa were beginning to worry that Thomas might never have any direct heirs. But here, in this letter, the seeds of union were being laid. Thomas was asking Alberta to be a part of his life, unspecified, but still a part. Raven had never seen the likes of it before.
"Do you love her?" she asked, handing the letter back.
Thomas turned in surprise at the question, and then looked back at the sleeping form. The sheet stirred slightly, but that was all. "I've never loved another in the way a man is to love a woman, Raven. If what I feel is love, then I do not recognize it yet. What I do know is that what I wrote in this letter is true. I do not wish to live without having Alberta play some part in my life. I want to be with her once more, and I want her to be with me."
Nodding slowly, Raven lay her paw on his shoulder once more and patted him consolingly. "It may yet be, Thomas. Why did you never send this letter?"
Thomas sighed heavily. "I was afraid that Thalberg and Malisa would become convinced that I was still under the halter's influence in some way. I was afraid that they'd find some excuse to send her to one of the other towns to make sure we could never see each other."
A crack of thunder that sounded closer than its companions rattled the windows so much that one of the shutters banged inwards. Raven stepped around the bed to shut it and latch it once more. Turning back, she could see that Alberta's muzzle was open slightly, the lips twitching in her sleep. Lifting her gaze, Raven peered at the horse lord. "Even when every mage says that you are not under the influence of dark magic any more? They would be wrong, and we both know it. And your councilors can do nothing without your consent."
"Oh they can, and have," Thomas pointed out ruefully. There was a bitter laugh in his voice. "I own my life to their treachery, Raven. It may have been for the best, but acting against my will is still treachery. I do not blame them for it, and I am glad they did it. But if they did it once, then if they feel I have become compromised by magical forces, they will do it again."
"Something that is simple to verify," Raven pointed out, her tone lecturing. For a moment she felt as if she were in the Temple explaining some theological point to one of her acolytes. "Malisa, Rickkter, and myself can all look at you with mage sight and give no hint that we are doing so. And we will all see that you are merely yourself, Duke Thomas Hassan. That is something that not even Thalberg will argue with."
She could see that the horse lord still looked conflicted and confused. He nodded his head slowly and returned to watching Alberta as she lay in the bed. "Thomas," Raven said, coming back around the bedside, "if it will help, I will speak to Malisa and Thalberg, assuring them that I believe you to be wholly yourself, in this especially. If you wish to pursue her, then do so without fear. I trust my liege's judgement."
Thomas smiled lightly then and patter her paw with his hoof-like hand. "Thank you, Raven. Thank you. I will pursue her. It must be slowly at first. I don't want too many rumours starting."
Raven smiled lightly, though she could not quite tell how she felt. "Very good, your grace. I have seen all I came to see. Alberta is well and in good hands here. Good Night, your grace. I will see you again."
"Good Night, Lothanasa. I will linger here a bit longer before I retire."
Raven continued to smile as she backed out the door. Thomas's gaze had gone resolutely back to the sleeping figure, and paid her no more heed. The look in his eyes was one that she had seen before in many Keeper's eyes. Though Thomas may not understand it in all its particulars, and may not yet be ready to call it for what it was, Raven knew.
Duke Thomas Hassan of Metamor was finally after so many long years, in love.