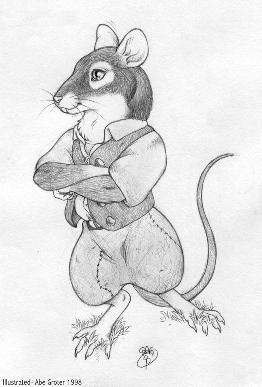 Metamor Keep is a really neat Universe created by my friend Copernicus. However, it is now under Christian Okane's dutiful paws. Metamor Keep is the name of a Castle and its surrounding environs which had a spell cast on it nearly eight years ago. The spell causes the metamorphosis of anybody who spends more than a week within the grounds into either a morphic animal, a toddler, or a human of the opposite gender.
Here are the seventy-eight stories in this Universe that have seen the touch of my quill pen. I have divided them up into the four cycles so far, because they each focus on different events, though each cycle follows chronologically. There is a synopsis now available of three of the completed cycles and the related stories. Synopses for the fourth cycle is forthcoming.
I also provide resources for those who wish to write in Metamor Keep. First, you should read the guidelines for writing in Metamor Keep. Then, I recommend going over the pantheon and calendar. That will give you a good idea for the atmosphere of the stories. Thanks to the efforts of Christian Okane we also have available a layout of the Keep itself and a list of some of the creatures and monsters that inhabit the nearby land. And now I have a page set aside for some of the artwork that artists have done for Metamor Keep.
Also, I have revamped the character listing page that has for too long languished unupdated. I have divided the characters by geography and affiliation to hopefully make it more accessible and friendly to both readers and writers alike. I have left the old pages active for now as well. You can find the full list here and also the separate lists 1 and 2.
And here are the three major maps for Metamor Keep created by Christian Okane, Winc, and Raven Blackmane respectively. The first is of the valley that the curse affects. The second is of the immediate countryside surrounding the Keep. And the last is the very continent that Metamor lies upon itself! As anybody can see, Metamor Keep is more than just a castle, it is a whole world waiting to be discovered.